today i like:
shrimp skewers, boats, making longs a part of my day, "leaving on a jet plane" (chantal kreviazuk), bailey, really fresh lettuce, excessive blogging, other people's jessica simpson moments, cold lychee peeled for me by someone else.
today i dislike:
computers that cease to work for no fathomable reason, AOL, plastic bags floating in the harbor, not being able to correctly pronounce "chinhua achebe."
mart wrestles with st. ursula's girls against the atomic bomb for the second night in a row; i wrestle with choices: sleep in tomorrow morning, or see a financial planner? despite the potential for tomorrow to be some kind of turning point in my life, i am leaning toward the 10-hour slumber ... i've been so productive all week already. (i'm counting sunday as part of this week.) ha, ha.
cousiny adventures continued ... red lobster's metal crab basket (salt/pepper/sugar holder) that jenny heartily encouraged me to steal (and i must admit, i really, really wanted to take it):
sadie (left) describes her rice pilaf as containing the "essence of dog pound." since i declined to sample it, i have no idea what she was talking about:
after dinner we walked over to the harbor and climbed aboard their live-aboard. i figured if i could handle the floating dock i could get on the boat. the main living area: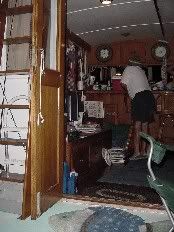 we climbed up top where sadie woke all her live-aboard neighbors with her conch-blowing skills. here she is playing the theme from M*A*S*H: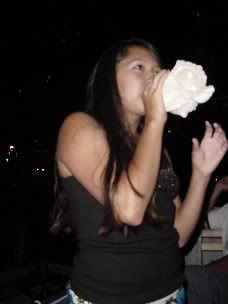 mercedes is appalled at mart's attempt: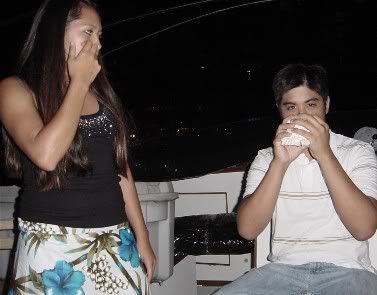 kreeesty, jen, sadie, and mart: